Another
NASCAR post
.. sorry to those who find watching nascar "boring". Cause I don't ;)
So this week was the start of speed weeks at the Daytona Speedway ( right up the road from my house). So almost everyday there is either practice or qualifying. Well the other night was a draw party for the Budweiser Shootout (which is a race with no points and really no rules..lol) What is the draw party? Well its when drivers come and pick a random bottle (hence Budweiser) and what ever number is drawn out of that bottle is the place that they'll start in the race. I know sounds kind of boring. But if you LOVE to see your driver(s) like i do its a GREAT and FREE opportunity to see them :)
So here's a little video and some pictures from that night :)
Here's the video portion of this post. My friend and I listening to practice from the car. It was kind of a daddy daughter night since we went with our dads :) And yes i do let out a squeal towards the end. Hey, what can i say, its gives me chills :p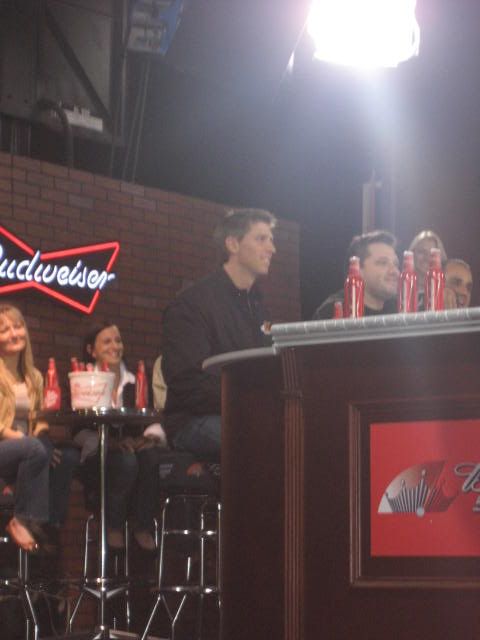 Denny Hamlin
Kasey Kahne
Of course my driver, Carl Edwards, got the poll :) (which means he starts at the front of the line)
I was able to work my way to the front to see another one my drivers. Joey Logano.
( with the help of some really nice people who when heard this was my first time were more then happy to let me through)
I meet this girl who when she heard that i liked Joey Logano, grabbed my hand and pulled me upfront with her :) She was the sweetest thing ever. Needless to say I am so happy she did because I would never have had this picture :) ( Sorry its such a close up. we were smushed up against the fence..lol )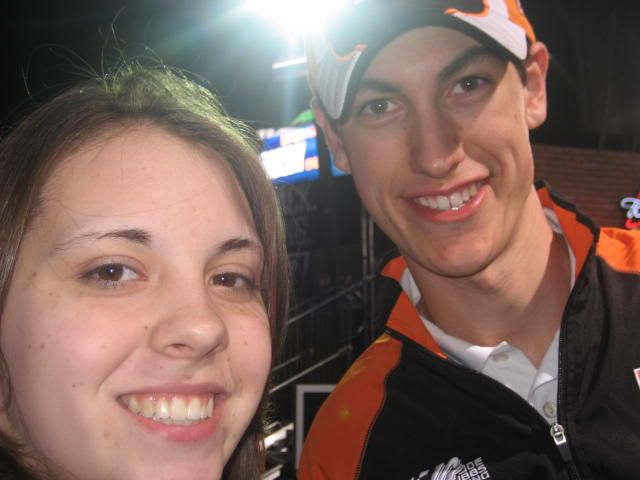 ( ok a funny little story, when Joey was up on stage, He kept looking at me and the girl next to me and waving, we would start laughing and wave back, needless to say, He's quiet the cutie :) )
So that was my nascar adventure ... again :) We are attending the Nationwide race ( the race before the 500) this upcoming Saturday when we get back from vacation. So be ready for another race post to follow.
I was so happy to be able to get one post in before Vacation ; ) I might be able to blog during vaca cause I believe we will have wi-fi. Here's hoping
Oh and last but not least, this is my $3 sovinier from Target. Its just a plain white shirt with drivers autographs on it. I have Joey Logano, Carl Edwards, Kasey Kahnes, Brian Vickers, and Ryan Newman and Denny Hamilins is on the back in red ;)