I am a major note taker. And I don't mean in school ( though I do take notes at school). If i need to remember something I make a note, and when I mean something I mean
ANYTHING
. It could be as simple as doing my hair a certain way. I know I'm weird. But I'm so scared I'll forget. If i decided to do something the next day in the middle of the night, i get up, turn my light on and make a note of it and stick it on my cork board. I don't have a dry erase bored, so i use paper, from anywhere. I tell my mom I kill so many tree's with the amount of paper I use just to make myself reminders. Onetime I made a note to take a shower. I know pathetic but I'm very afraid about forgetting things.
So the other day I was looking around on my newly updated laptop. There are some pretty good things on the windows 7. But the best thing EVER. Its it has STICKY NOTES!
HALLELUJAH
!
lol I was so excited because i use my computer about everyday so its a great place to have reminders :)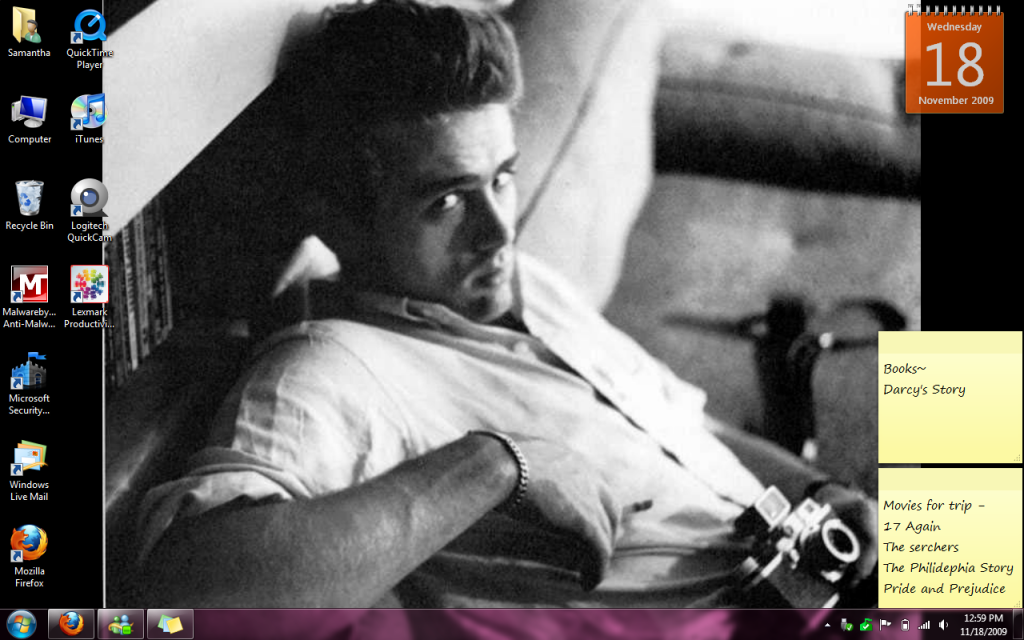 See the sticky notes! lol. And for those of you who don't know. That is James Dean on my wallpaper. Mom laughs because I've only seen 1 movie of his and I LOVE him.. lol ( ok maybe not love but he was a great actor). I tell her "One is enough! :) "
I'm not sure if I'll be able to blog in the next view days ( or even week) I will make the best effort to blog on vaca but we will see how that goes :)